Buying groceries in Bali is just like buying groceries at home – don't get overwhelmed.
There are local markets, small mini-marts and large supermarkets selling all kinds of things like locally grown and picked produce, and imported goods from cheese to candy.
Great for keeping to a budget when you are backpacking or living in Bali, here is everything you need to know about buying groceries in Bali.
Where to Buy Groceries in Bali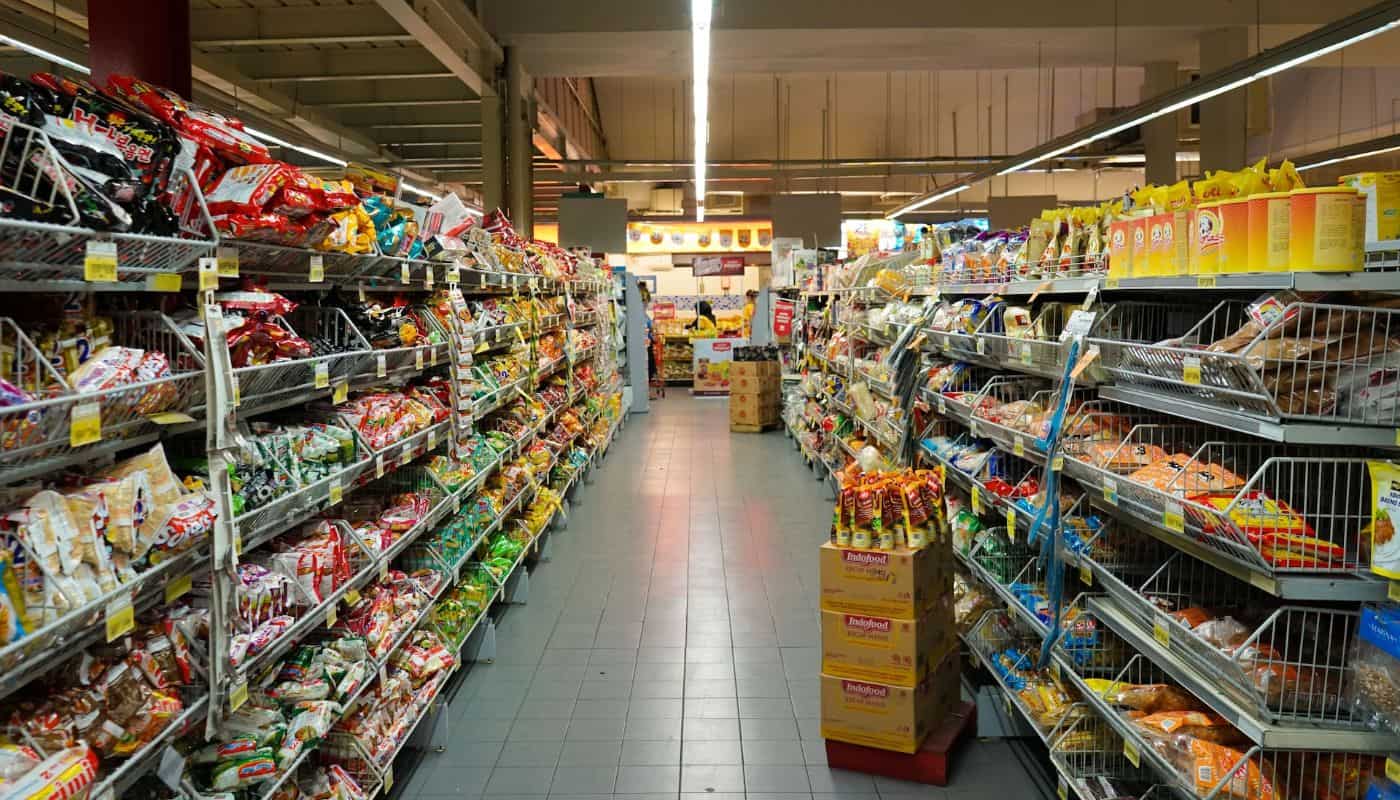 The local pasar are buzzing, thriving places to get locally grown and produced groceries like vegetables, spices, chicken and fruit. When in Bali, do as the locals do, and shop where they shop. The prices are going to be much cheaper at the pasar than they are in the supermarkets, however you won't be able to find everything you are looking for. For the fruits and veggies, the pasar is perfect! They are the freshest you can get. 
Next, there are small mini-marts and convenience stores that sell all the easy products – instant noodles, drinks, snacks and some toiletries. For a quick stock up on treats and shampoo, these mini-marts are a great option. Don't expect to get a full cupboard, but you can definitely find some super cool snacks to try!
The big supermarkets are going to be where you want to do the main bulk of your shopping. They are jam-packed with all the goods you want to fill your hotel mini-bar or villa fridge with. You'll find everything from dairy products, meats, sauces, snacks, and more! Both imported and local brands will make a good balance for a delicious homemade meal. Although more expensive, it is worth getting exactly what you want than compromising on a bad brand of parmesan.
Bali is known to be very eco-conscious, sometimes, and has a whole host of eco-friendly, bulk stores and wholefood shops. These are great for stocking up on pantry essentials like rice, oats, teas and nuts.
I recommend doing your shopping a little bit everywhere to make sure you are making the most of the local produce while also getting your fave imported brands and trying something new. By getting some here and there, you will also be able to keep costs down.
Best Supermarkets in Bali
Now for the good stuff, where are the grocery stories in Bali? Here we go!
Everyday 8:00 AM-10:00 PM
+62 361 762308
Jl. Sunset Road No.29, Kuta, Kec. Kuta
Grand Lucky Supermarket has one of the biggest selections of imported goods on the island. 
Located on bustling Sunset Road, the huge store is packed to the rafters with all kinds of amazing brands and surprises.
They also have a selection of cookware and kitchen accessories that could come in handy!
Frestive has stores everywhere, and is a reliable option for getting a good weekly shop in.
They have a good mix of international and local brands, harder to find goods and fresh produce.
If you are looking for a new spot to get the majority of your groceries, find your nearest Frestive!
In Seminyak, Bintang Supermarket is probably one of the most well known places to get groceries.
It has a little bit of everything, including all the classic Bali souvenirs (for when you don't want to haggle at markets).
There is a well-rounded selection of goods, including toiletries for when your shampoo and conditioner run out at the same time.
Pepito is another good all-rounder with everything you need from a good grocery shop in Bali. 
There is fresh produce, frozen goods, pantry must-haves and bakery goods to fill up your cupboards and fridge.
Buy everything you need to prepare your favourite meals, or stock up on snacks for your pre-beach pig out.
Tiara Gatzu Supermarket is a little far out of the tourist crowds and is a hotspot for the locals. 
A great place to get fresh produce, at the best prices, its definitely worth travelling out of the centre.
Find fresh meats, produce and treats to keep your cupboards stocked and your families stomaches happy.
Papaya Fresh Gallery is an amazing Japanese supermarket located in Kuta.
They have a wide selection of fresh and ready-to-eat sushi and sashimi, as well as a variety of other traditional Japanese dishes.
You'll find cool Japanese branded snacks and drinks, along with their fresh goods. It is a great spot for grabbing things on the go.
Primo Supermarket is a modern and sophisticated grocery store located at the Lippo Mal Kuta, and Level 21 Mall.
It has a wide variety of imported products, ranging from fresh produce to gourmet food items.

There are 2 locations of Alive Wholefoods, each are packed with natural, tasty produce and ingredients to make your eco-conscious shopping easier.
You can buy pantry basics by the gram, try out tasty local alternatives for dairy, and even pick up delicious snacks for between meals.
Final Thoughts
Shopping local is a great way to support the island and economy, but sometimes we just need that imported chocolate bar. 
These are some of the best supermarkets in Bali for fresh produce, variety of imported goods and shopping experience.
Featured image: Grand Lucky Supermarket