Shopping for groceries in Bali is a great way to keep costs down on your island adventures.
You can prepare your own packed lunches, cook up tasty dinners in your private accommodation and snack beside the pool.
With lots of international brands and fresh, local produce, all of the grocery stores in Bali are stacked up with options.
These are the best places to buy groceries in Bali.
Where to Buy Groceries in Bali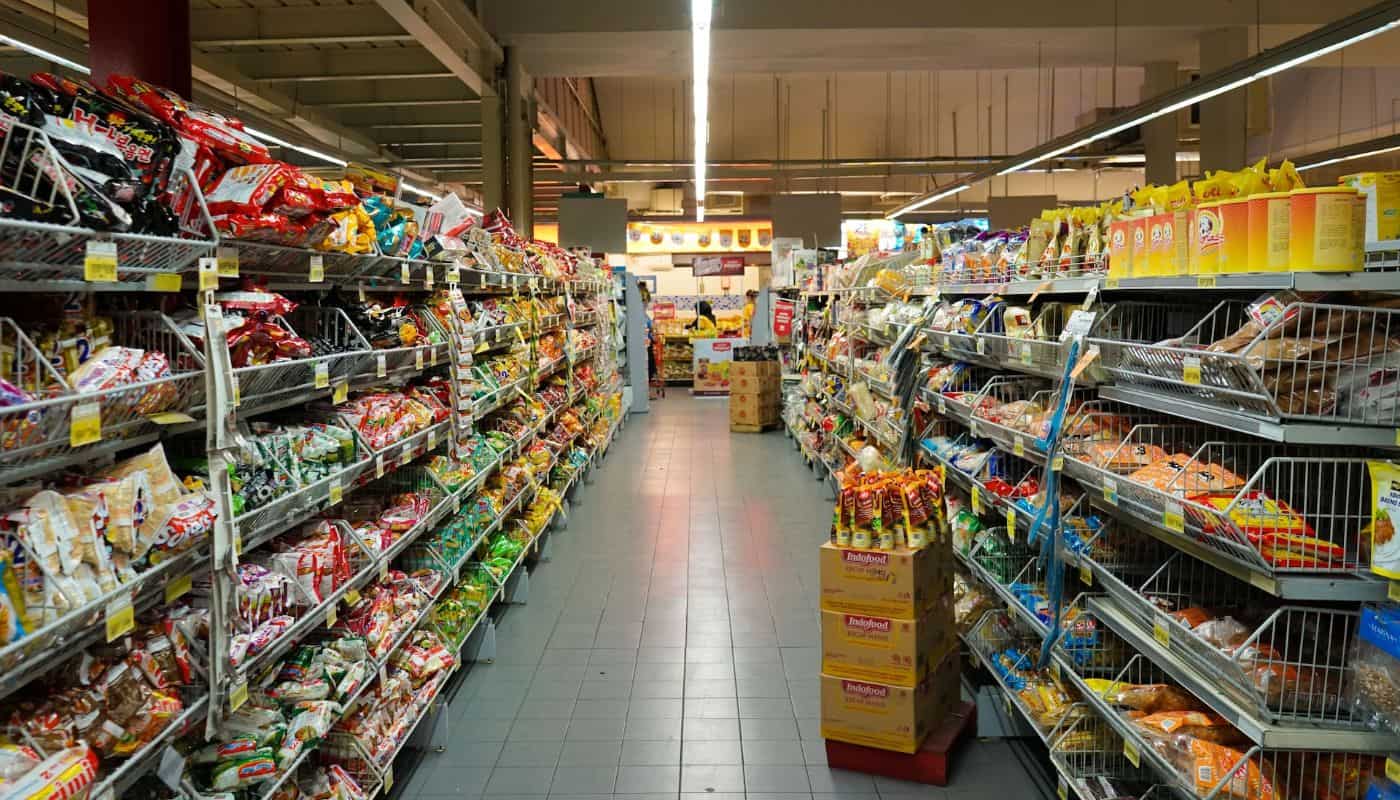 For those who want to prepare their own meals and snacks in Bali, grocery shopping is super easy. 
There are loads of big, branded supermarkets as well as the local pasar (markets) for affordable, fresh produce.
The local pasar typically have a wide selection of locally-sourced produce like fruits, vegetables, meats, and spices. Prices at the pasar are usually considerably lower than at grocery stores, and the atmosphere is lively and bustling. The downside of shopping at pasar is that it can be difficult to find items that are not locally grown or produced. There may also be a language barrier making things more difficult. 
Grocery stores, on the other hand, stock a variety of local and international groceries. There stores are usually more expensive than pasar, but they have the advantage of offering a wider selection of items. Grocery stores are also well-stocked with packaged and non-perishable items, such as canned goods and snacks.
There are super large supermarkets, local supermarkets and corner convenience stores where you can pick up last minute snacks and items.
Bali is can be very eco-conscious, sometimes, and has a whole host of eco-friendly, bulk stores and wholefood shops. These are great for stocking up on pantry essentials.
In general, every type of store has its advantages and disadvantages. Local pasar has a great selection of locally-sourced items at lower prices, but may not have items from outside of Bali. Grocery stores have a wider selection of items, including imported items, but are typically more expensive. 
And now, where are these grocery stores in Bali?
Best Supermarkets in Bali
Need a hand finding the best places to get groceries in Bali? Check these out!
Everyday 8:00 AM-10:00 PM
+62 361 762308
Jl. Sunset Road No.29, Kuta, Kec. Kuta
Grand Lucky Supermarket is widely known as the best supermarket in Bali with two locations in Sanur and Sunset Road.
Not only providing a vast selection of fresh products and imported goods, you can also find rare imported products. 
Frestive Supermarket has stores in Berawa, Batu Bolong, Seminyak, and Kerobokan. It is a perfect place to shop for fresh hydroponic vegetables, cereals, chips, and fresh cut fruits.
The store also has a wide selection of organic and non-organic products, as well as international items. 
Bintang Supermarket is probably one of the most well-known supermarkets in Seminyak, but they also have one in Ubud.
The selection of fresh produce is always top-notch, and the shelves are well-stocked with a variety of food and beverages from local and international brands. 
The Foodhall Gourmet Supermarket is located in Sunset Road, and has high quality local and imported fresh products.
The fresh meat and seafood selection is vast, while the bakery has a delightful array of freshly baked breads and pastries.
The store also features a wide selection of imported and specialty items, such as premium cheeses, olive oils, and other condiments. 
Pepito Market is one of the best supermarkets in Bali, located in Kuta, Seminyak, Canggu, Ubud, Lovina, Tanjung Benoa and Uluwatu.
The stores have an international food section, which includes imported items from around the world like meats, cheeses, fish, fruits, vegetables, spices, and more.
The store also has a bakery, deli, and a selection of wines and spirits.
Tiara Gatzu Supermarket is a little further out from the tourist spots.
It is the largest supermarket in Bali, is well-organized and easy to navigate.
They have a whole host of fresh groceries, frozen goods, cosmetics, home amenities and even clothes. 
Fantasy Supermarket is located in Pererenan, Bali. I
It offers a wide range of local products such as fresh produce, snacks, milk, spices, at more affordable prices than the bigger brand stores.
They also have a convenient online ordering system for easy and quick shopping. 
Nirmala Supermarket is located in Ungasan, Uluwatu and has a wide range of fresh products from local farmers.
It provides customers with a variety of fresh fruits, vegetables, meat, and seafood, as well as organic and health food products. 
Artasedana (Hardy's supermarket) is a convenient and friendly place to shop in Sanur.
They have a variety of fresh produce and daily necessities, as well as imported goods and snacks. You can also find a selection of beer, wine and spirits
Papaya Fresh Gallery is an amazing Japanese supermarket located in Kuta.
They have a wide selection of fresh and ready-to-eat sushi and sashimi, as well as a variety of other traditional Japanese dishes.
It is a great spot for grabbing things on the go.
Primo Supermarket is a modern and sophisticated grocery store located at the Lippo Mal Kuta, and Level 21 Mall.
It has a wide variety of imported products, ranging from fresh produce to gourmet food items.

There are 2 locations of Alive Wholefoods, each are packed with natural, tasty produce and ingredients to make your eco-conscious shopping easier.
You can buy pantry basics by the gram, try out tasty local alternatives for dairy, and even pick up delicious snacks for between meals.
5 Helpful Tips for Buying Groceries in Bali
Buying groceries in Bali is super easy and convenient when you are trying to stick to a budget.
Most stores have a wide range of products at reasonable prices. But here's a helping hand just in case;
Research local supermarkets: There are a lot of supermarkets in Bali

, so it's important to do a bit of research beforehand to find the ones that best meet your needs. Check out online reviews, ask locals, and even ask your villa or hostel staff for recommendations. There are supermarkets that specialize in organic, local or imported products, so take the time to find the one that best suits your needs.

Shop around: Bali supermarkets are quite competitively priced. If you have the time, it can be worth shopping around for the best deal. Prices can vary significantly depending on the store, the item and even the time of day, so it pays to do a bit of research and shop around.
Stock up on staples: Bali has some fantastic fresh produce, so it pays to stock up on staples such as rice, noodles, spices, and canned goods. That way you'll always have something to cook with, even when you don't have time to shop.
Check the best before date: As with anywhere, it's important to check the best before date of the products you buy. This is especially true if you're buying imported products, which can sometimes have shorter shelf-lives than local ones.
Buy in bulk: If you're in Bali for an extended period of time, it can be worth buying in bulk. Many supermarkets offer discounts for larger purchases, so you can make huge savings if you buy a lot of the same item. Just make sure you have enough storage space in your accommodation.
Final Thoughts
Shopping local is a great way to support the island and economy, but sometimes we just need that imported chocolate bar. 
These are some of the best supermarkets in Bali for fresh produce, variety of imported goods and shopping experience.
Featured image: Grand Lucky Supermarket