Uluwatu is the epitome of tropical island vibes.
Incredible cliff tops, picturesque white sand clear water beaches, luxurious beach clubs and a dash of Balinese culture – it is the best place to enjoy a touch of everything.
Famous among surfers for its remarkable waves, it is hard to know what to do beyond the beach.
I have come up with my list of the best things to do in Uluwatu (beaches included). A mixture of relaxing and energising, you can ensure you are taking in all that the area has to offer.
Now, grab your backpack and get ready for the adventure!
Search For Your Dream Cliffside Villa
There is every type of accommodation available in Uluwatu – hostels, hotels, resorts, private villas and bungalows. Perched on the cliffside, on top of a hill overlooking ocean views or in-land, each type and location has their benefits. Whether you have money to spend, or would like to keep it cheap, there is something for everybody to ensure you have the most epic Uluwatu stay.
Take to the Waves with a Friendly Professional
I wouldn't recommend surfing in Uluwatu to the complete novice, but for those with a little bit of experience you can have surf lessons on some of the most beautiful beaches on the island. Watch out for the coral and make sure you have your SPF! The friendly local surf instructors will teach you the basics, and ensure you are ready, before heading out into the water.
Work Hard, Relax Harder at Bingin Beach
You really have to work to get to Bingin Beach. Descending 188 steps until you reach the sand may seem easy, but with the varying size, steepness and hot island sun, you are gonna need to take a rest. That being said, the sweaty walk is totally forgotten the moment you step onto the beach. Stunning white sand and crystal blue waters welcome you for a relaxing day in the sun and sea. Lined with cliffside warungs and restaurants, spend a day in paradise. It is by far my favourite beach in Uluwatu.
So Good You Say It Twice
Much like Bingin Beach, Padang-Padang Beach is located down the cliffside – but with a less dramatic descent. With rocks bursting out of the sand and small pools, this is a beautiful place to relax and paddle in the water. Popular with the locals on the weekend, you can grab a cold drink from the beachside bars and chill until the sunset. Just IDR 15,000 to enter, it's the cheapest heaven I've ever seen.
All Aboard Matey!
Nyang-Nyang and Nunggalan Beaches are located side-by-side on the coast of Uluwatu. Remaining relatively quiet from the busy tourist crowds, it is a great place to spend a sandy day in the sun. Nunggalan Beach features some picturesque shipwrecks – ideal for the Instagram feed. Bask in the sun in your own private corner of the beach and enjoy the calm tides of the cool ocean.
Bali's Own Cave of Wonders
Step aside Aladdin, Bali has its own cave of wonders located on Suluban Beach. Jutting out from the cliff, hidden nooks and small coves are waiting to be explored. Escape the sun for a while to walk around the rocks, searching for quiet hiding spots and a cool shady getaway.
One Last One for Good Measure..
Thomas Beach is the last beach I will direct you to.. Another beautiful setting for a relaxing beach day, you can lounge on the rentable sun beds or set up a sarong on the sand. The incredible coloured water lures you in for long swims and paddling at the shore. Add this to the must-visit list!
Give Back to the Island
If you are going to be enjoying the stunning beaches and landscapes, then it's important to also join the initiative that keeps them clean and healthy. The businesses of Bingin hold regular beach clean ups where you can fight trash pollution and aid the beaches in staying the beauties that they are. Spread awareness of the trash problem, and make sure you are doing your part with each beach day!
This is a Boarding Call For.. Nowhere
A bizarre, yet common, thing in Bali is a number of abandoned planes dotted across the island. With no real purpose, they have become a popular destination for taking pictures and exploring. Tbh, they are a bit creepy.. The abandoned plane in Uluwatu is a Boeing 737 that was purchased and transported to be used as a restaurant, but it never happened.. Now it sits on an expansive piece of land and is a famous addition to many selfies.
Sand, Sea and a Breeze
Step off the sand and head up the cliffside to reach Balangan Beach Viewpoint. High above the ocean, it is a calm and cool place to enjoy the most beautiful tropical views. The bright white sand, clear turquoise waters and luscious greenery is the perfect set-up for an Instagram pic. Just don't get too close to the edge, and be aware of the sharp rocks!
Views Up the Wazoo
It has to be expected that Uluwatu is stacked with unbeatable viewpoints looking out over the ocean and cliffside. Karang Boma Cliff is another of these amazing spots that gives the most sensational view. A great place to get some outstanding sunset pictures, you will never get tired of finding these hidden gems.
Best Sunset Spot in Bali
Uluwatu is hands-down the best place to catch unbelievable island sunsets. Discover hidden cliffside warungs and bars where you get a front row seat to the magic, or head to one of the famous hotspots such as Rock Bar to join the buzzing crowd. With an ice-cold beer you can witness the sky change from blue to pink to purple, before the sun finally sets into the horizon. Sunset drinks are one of the best things to do in Uluwatu.
Get Cultured at Uluwatu Temple
Perched 70m high on the edge of a cliff, Uluwatu Temple is a stunning piece of Balinese culture that shouldn't be missed. Still used as a place of worship and prayer for the local neighbouring villages, you can witness amazing colourful ceremonies with a stunning backdrop. Make sure you are covered up and respect the rules of the temple, it is a sacred and holy site. Hop on a tour to get all the insider knowledge about this majestic temple.
Burning Up at Sunset
The Kecak Fire Dance at Uluwatu Temple begins as the sun starts to set. You can feel anticipation in the air as everyone gets seated and comfortable for the classic form of entertainment. The chanting repetitive vocals of bare-chested men in a circle leads the dancers in a trance-like state. Performing the traditional Balinese ritual, young dancers will reenact the moves of their ancestors, ending in a climax of fire. This is one of the Uluwatu activities that should be at the top of your list.
Be Awed at GWK
A huge cultural park in the heart of Uluwatu, GWK is like its own city with massive arenas, a food court, amphitheatre and – the most famous part – the GWK statue. Standing at 122m tall it can be seen from across the island. It depicts Garuda's agreement to be ridden by Vishnu for the use of the elixir of life. After taking 16 years to be completed, visiting the statue is a cool thing to do in Uluwatu.
Now.. Let the Adults Run Loose
From the kids playground to the parents, New Kuta Golf Course appeals to the senses of every golfer on the island. Go hole by hole with stunning views over the ocean. Part of a larger club, it is the perfect place to spend a quiet day away from the children and enjoy some time doing what you love.
Connect with the Earth at Malini Agro Park
A home of fresh vegetables grown naturally and organically without any chemicals, Malini Agro Park is a place of solitude and serenity at the edge of the cliff. Overlooking stunning ocean views, you can wander the park's spacious and breezy property filled with viewpoints, interesting buildings, a swimming pool and restaurant.
Sorry Lads, This Retreat is For the Girls
Goddess Retreats is a getaway from the crowds and a safe place where you can enjoy reconnecting with yourself. A holistic week filled with meditation and yoga, gives you the time to recenter. With yin yoga to chakra balancing to yoga nidra, for the total beginner or professional yogi, this is a great experience. But don't worry boys, there are a number of other yoga retreats in the area that you can join too!
Gliding Above Paradise
Take a thrilling ride like no other paragliding above the cliffs of Uluwatu. Strapped to a professional, you can feel weightless as you soar through the air above the luscious hillside and luxurious villas. Look out over expansive ocean views and enjoy the cool breeze up high. It's gotta be one of the best things to do in Uluwatu.
Ulu-What to do?
Ulu Cliffhouse is the perfect combination of a beach and pool club. Sitting on the cliffside overlooking expansive ocean views, it is a great place to go when you don't know what to do in Uluwatu. Featuring direct access to the beach, you can enjoy the comfortable sun beds, an extensive menu and ice-cold cocktails that are served right to your bedside. Dip into the refreshing infinity pool and look out over amazing views, or walk down to the sand for a jaunt in the ocean.
Karma's a B-each
There is no shortage of beach clubs in Uluwatu, and Karma Beach Club stands out from the rest for its lift that carries you down to the ocean front. Forget sweating it out walking down the cliffside, hop in the lift and descend into paradise. Filled with huge sunbeds and private cabanas, have an ultra-luxurious experience on the sand. Dine over delicious snacks and meals, and sip on fresh drinks to keep hydrated. The stunning turquoise waters provide the perfect backdrop to every island day.
Get Ready to Spend Your Moneypennys
Like stepping onto a set of James Bond, Savaya is the epitome of luxury, decadence and style. Situated on the cliff top overlooking ocean views, the club features a huge infinity swimming pool, day beds, private cabanas – with their own private pools – and a restaurant. Coming here is an experience you will never forget. Dance to the DJs tunes and forget your worries. Savaya is one of the top places to visit in Uluwatu.
A Cliffside Oasis
I like to give options, so here is another pool club that I think should be on your list of what to do in Uluwatu. A bright and modern style club, El Kabron is a place where you can bask in the hot summer sun, hide away in the restaurant and cool off in the pool. Ideal for celebrating a birthday or a special occasion, it is a stunning tropical setting.
Get Twisted One-Eighty at the Spa
Well-known for its one-eighty° pool club, The Edge Resort also features a day spa. Spend a day relaxing on the cliff's edge being pampered and massaged to your heart's content. Offering a range of different massage and reflexology types, you can be kneaded to your satisfaction. Grab a friend and enjoy a luxurious pamper session.
Sunset Sips at Single Fin
Whenever I am in Uluwatu, a sunset drink at Single Fin is a must! Ideally located right on the edge of the cliff, it has an undisturbed view of the horizon for the perfect sunset pic. Hosting live bands, famous DJs and sunset parties, it is on my list of the places to visit in Uluwatu. Also serving up delicious meals throughout the day, it is a one-stop-shop for everything you need on a sunny island day.
Pull Up a Bean Bag and Get Your Marshmallows
Sunday's Beach Club is one of the beautiful and luxurious sandy clubs located along the peninsula of Uluwatu. But Sunday's offers something special, a sunset bonfire. As the sky changes colour you can sit back on your bean bag and enjoy the chill that comes with the night sky. A blaze of fire will quickly have you livened up and enjoying a cold beer with friends in the firelight.
Seafood Worth the Drive
OK, this one's a bit out of scope but totally unmissable in my opinion. If you are a seafood fan then you must, must head to Jimbaran for a sunset fish dinner. With your toes in the sand you can choose your fish, sauce and sides then tuck into a delicious meal while the sun makes its descent into the horizon. Absolutely the best fish on the island!
Catch You at Cashew Tree
Just a short ride from Bingin Beach, The Cashew Tree is a thriving musical spot that hosts some of the most well-known bands and musicians on the island. A chill and relaxed vibe, you can dine over delicious salads and huge burgers while the indie singer sings his woes. A far-out spot with a relaxed crowd, hanging out here is one of my favourite things to do in Uluwatu.
Get Your Caffeine Fix at Suka Espresso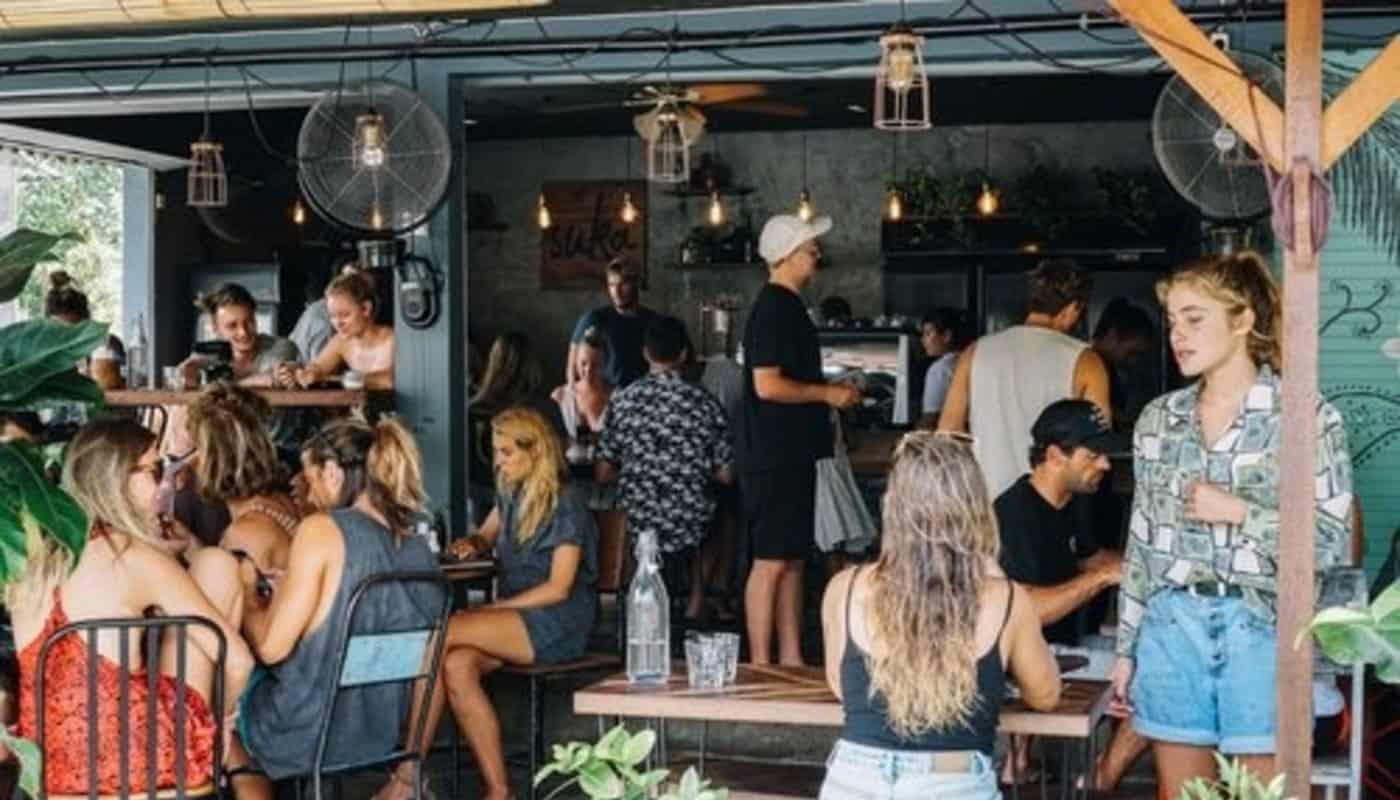 After all that activity, and climbing up and down the cliffside, you are gonna need a little pick me up. Suka Espresso is the place to head for strong, rich and delicious coffee. Serving up a range of breakfasts, smoothies bowls, burgers and sandwiches, there is something for every craving.
Grab a Meals at Ours
Another establishment offering tasty treats, Ours has a huge menu for breakfast, lunch and dinner all prepared with locally sourced ingredients. Giving back to the community and ensuring sustainability, you can eat here guilt free – well perhaps not after those sweet desserts..
Join a CrossFit Class at Bambu Fitness
A beautiful, tropical island inspired spot in Bingin, Bambu Fitness is a stunning gym with a classic Tulum style. Join CrossFit lessons, try out some weightlifting or arrange a person training session, the experienced team is able to cater to every kind of workout.
Final Thoughts
Wow! There is so much to do in Uluwatu! Fill up your days with incredible food, lounging on the beach and sipping beers at sunset.
The perfect spot for a relaxing getaway with stunning views, Uluwatu is a picturesque spot that shouldn't be missed.